Pixels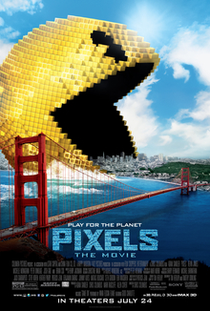 PIXELS (12)
Columbia/Happy Madison/1492 (Adam Sandler, Chris Columbus, Mark Radcliffe & Allen Covert)
W: Tim Herlihy & Timothy Dowling [based on the short film by Patrick Jean]
Adam Sandler (Sam Brenner), Kevin James (President Will Cooper), Michelle Monaghan (Lt. Col. Violet Van Patten), Josh Gad (Ludlow Lamonsoff), Peter Dinklage (Eddie Plant), Brian Cox (Adm. James Porter), Sean Bean (Cpl. Hill)
Pixels has one running joke and even manages to get that wrong. The title should be Voxels.
An alien species misinterprets footage of a 1982 video game competition as a declaration of war and attacks the planet with a series of 8-bit creations, including Space Invaders and Pac-Man.  The Earth's fate is in the hands of tech guy Adam Sandler and his geek posse, who participated in the 1982 arcade tournament and the only people on the planet who know the gameplay patterns.
If that sounds far-fetched, this movie also presents a world where Kevin James is US president.
Based on a short film of the same name, this slice of ridiculousness isn't completely without amusement, especially in the scene where the gang take on an evil Pac-Man, but the sheer lunacy of it all, paired with bad stereotypes, jokes which go nowhere, a flawed nostalgia throwback and some truly irritating performances completely counterbalance the entertainment factor.
The biggest enigma is who this actually appeals to. It's likely to be appreciated most by 12 year olds who played 8-bit computer games during the 1980's.
4/10