Pinocchio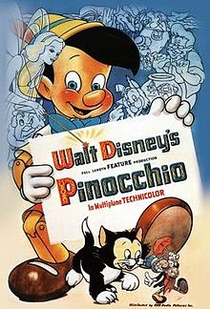 PINOCCHIO (U)
D: Ben Sharpsteen & Hamilton Luske
W: Ted Sears, Otto Englander, Webb Smith, William Cottrell, Joseph Sabbo, Erdman Penner, Aurelius Battaglia [based on the story by Carlo Collodi]
Mus: Leigh Harline, Ned Washington & Paul J. Smith
voices of: Dickie Jones (Pinocchio), Christian Rub (Geppetto), Cliff Edwards (Jiminy Crickett), Evelyn Venable (The Blue Fairy), Walter Catlett (Honest John Worthington Foulfellow)
There are those who'd say Disney's second feature film (after Snow White & The Seven Dwarfs) is indicative of the studio's finest ever work and it would be claim difficult to argue against.
Based on the classic fairytale of a wooden puppet whose dream is to be a real boy, the animation perfectly captures the magic of the story as it presents an iconic piece of cinema.
Whether you experience the film as an adult or a child, the dusting of Disney magic makes it easy to immerse yourself in and relate to. When you wish upon a star...
9/10