Picnic at Hanging Rock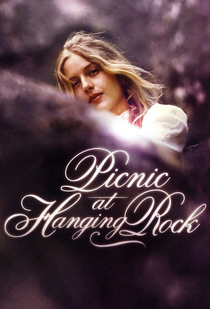 PICNIC AT HANGING ROCK (PG)
D: Peter Weir
AFC/British Empire (Hal McElroy & Jim McElroy)
Australia 1975
115 mins
Drama/Mystery
W: Cliff Green [based on the novel by Joan Lindsay]
DP: Russell Boyd
Ed: Max Lemon
Mus: Bruce Smeaton
Rachel Roberts (Mrs. Appleyard), Anne-Louise Lambert (Miranda St. Clair), Dominic Guard (Michael Fitzhubert), Helen Morse (Mlle. de Poitiers), Jacki Weaver (Minnie)
Based on the novel by Joan Lindsay, this Australian film surrounds a mystery involving a group of Victorian schoolgirls who disappear on Valentine's Day, 1900 during an excursion to the geographical location of the title.
The mystery is never explained, but the film offers various theories from witnesses and other perspectives, as well as doubling up as a metaphor for sexual awakening and even the oppression of colonial rule.
The film served as a huge breakthrough for director Peter Weir, who went on to enormous success in Hollywood, as well as putting Australian film on the map a decade before the success of films like Crocodile Dundee.
The BAFTA awards honoured the film for its picturesque cinematography. Unfortunately, it didn't figure in the Oscar nominations.
8/10