Philomena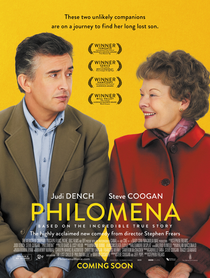 PHILOMENA (15)
Pathé/The Weinstein Company (Steve Coogan, Tracey Seaward & Gabrielle Tana)
W: Steve Coogan & Jeff Pope [based on the book "The Lost Child Of Philomena Lee" by Martin Sixsmith]
Mus: Alexandre Desplat
Judi Dench (Philomena Lee), Steve Coogan (Martin Sixsmith), Michelle Fairley (Sally Mitchell), Barbara Jefford (Sister Hildegarde), Mare Winningham (Mary)
It shouldn't come as a surprise that Judi Dench turns in a splendid performance as borderline-cantankerous, devoutly religious Irishwoman, Philomena Lee, the true shock performance here is Steve Coogan, who adds a dramatic, serious performance as a string to his bow quite naturally.
Coogan, who also served as a co-writer, adapting political journalist Martin Sixsmith's book, plays the author himself, who, following a public scandal, must repair his ailing career by taking on a human interest piece.
Although he's initially reluctant, he chooses to investigate the story of Philomena Lee (Dench), a committed Catholic who became pregnant as a teenager and was forced by the strict nuns at her boarding school to put the child up for adoption.
The investigation into the past soon turns into a search for Philomena's son, who would now be in his 50's.
Stephen Frears' tender drama of loss, redemption and forgiveness is a fantastic piece of work, aided by the brilliant performances of the two main cast members, but also exceptionally well-written and beautifully scored by Alexandre Desplat.
Amongst the best films of 2013.
8/10