Phantom of the Opera (1943/2004)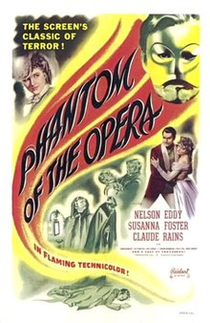 PHANTOM OF THE OPERA (PG)
D: Arthur Lubin
Universal (George Waggner)
US 1943
92 mins
Horror/Musical
W: Erich Taylor & Samuel Hoffenstein [based on the novel by Gaston Leroux]
DP: Hal Mohr & W. Howard Greene
Ed: Russell Schoengarth
Mus: Edward Ward
PD: John B. Goodman & Alexander Golitzen
Cos: Vera West
Nelson Eddy (Anatole Garron), Susanna Foster (Christine DeBois), Claude Rains (Enrique Claudin), Edgar Barrier (Inspector Raoul de Chagny), Leo Carillo (Signor Feretti)
This elaborately expensive and luxuriantly produced version of Phantom Of The Opera is quite beautiful to look at, but doesn't capture the horror element of Gaston LaRoux's original novel, draining out the suspense, fear and mystery to its focus on music and (to a lesser extent) subtle comedy.
Still, considering the film was produced in 1943, the rich cinematography and production design has held up incredibly well over the decades.
Set at a Paris opera house, a once-successful violinist, deformed with acid and living as a phantom in the catacombs beneath the building becomes obsessed with a young soprano named Christine, and manipulates the events which occur above him to ensure her a successful career and create a romance between the two of them, but she has no knowledge of his existence.
Though the film boasts opulent sets, costumes and incredibly beautiful photography, the pacing does drag and there's no great payoff.
Universal Studios spared no expense bringing it to the screen, and though the plot would have been enough for 1940's audience, it's specifically this aspect of the film which fails to hold up to modern standards.
6/10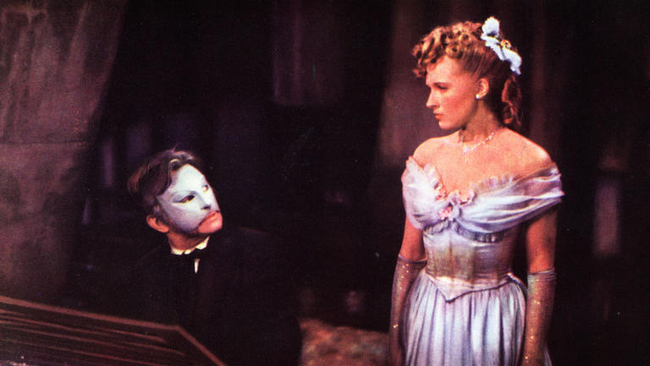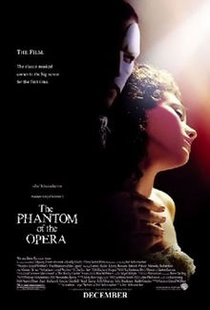 THE PHANTOM OF THE OPERA (12)
Warner Bros (Andrew Lloyd-Webber)
W: Andrew Lloyd-Webber & Joel Schumacher
DP: John Mathieson
Mus: Andrew Lloyd-Webber & Charles Hart
PD: Anthony Pratt
Cos: Alexandra Byrne
Gerard Butler (The Phantom), Emmy Rossum (Christine Daae), Patrick Wilson (Raoul de Chagny), Miranda Richardson (Madame Giry), Minnie Driver (Carlotta), Simon Callow (Andre), Ciaran Hinds (Firmin)
Like the majority of adaptations from stage musicals, enjoyment is heavily dependent on whether or not you like the source material and/or the songs which undercut the narrative of the story.
Fans of the stage version of Andrew Lloyd-Webber's long running musical won't be disappointed with this long-awaited film version, utilising a cast of then-unknowns with a background in theatre (the only cast member who didn't provide their own singing voice was Minnie Driver, dubbed by a classical soprano).
The story takes place in a Paris opera house, where a mysterious, disfigured figure who lives in the catacombs becomes obsessed with a beautiful young singer, and manipulates events to cause havoc to a production so she can become the lead and he can perform beside her. 
The period detail of the sets and costumes are impressive, as is the cinematography, and though the supporting characters are given very little to work with, the two leads are perfectly cast, especially Emmy Rossum, who defies her true age of 16-years-old with her singing performance.
7/10