Peter Pan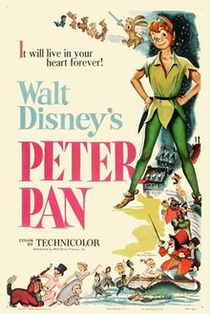 PETER PAN (U)
D: Wilfred Jackson, Clyde Geronimi & Hamilton Luske
W: Ted Sears, Bill Peet, Joe Rinaldi, Erdman Penner, Winston Hibbler, Milt Banta & Ralph Wright [based on the play by James M. Barrie]
Mus: Oliver Wallace & Edward Plumb
voices of: Bobby Driscoll (Peter Pan), Kathryn Beaumont (Wendy Darling), Hans Conreid (Captain Hook), Bill Thompson (Mr. Smee) 
J. M. Barrie's timeless fairytale gets the Disney treatment, magically whisking the audience away to Neverland where eternal boy Peter Pan battles with the evil Captain Hook in order to save Wendy Darling and her brothers.
The film holds up amongst the studio's finest works, with superb animation that, at the time, couldn't be bettered. 
The film lacks any memorable songs like other Disney classics from the era, but is still thoroughly enjoyable for those 'forever young' amongst the audience.
7/10