Performance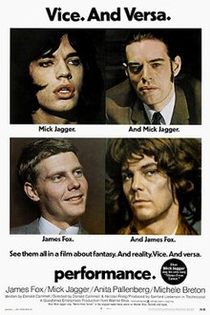 PERFORMANCE (18)
D: Donald Cammell & Nicolas Roeg
Warner Bros/Goodtimes (Donald Cammell & Sandord Lieberson)
DP: Nicolas Roeg
Ed: Antony Gibbs & Brian Smedley-Aston
Mus: Jack Nitzsche & Randy Newman
James Fox (Chas Devlin), Mick Jagger (Turner), Anita Pallenberg (Pherber), Michele Breton (Lucy)
London's swinging sixties is perfectly captured in this collaborative drama from directorial debutants Donald Cammell & Nicolas Roeg.
A vicious gangster, on the run from his superiors after performing a hit on a rival gang member, goes into hiding at a house where a rock star lives a bohemian life with his lover.
Filmed in 1968, the film undertook a lengthy editorial process and was finally unveiled to much criticism due to issues of nudity, drug addiction and violence. The story is very Pinteresque with its depiction of people and their alter-egos and there's an awful lot of devil in the details. 
Unappreciated in its day, it has gone on to be rewarded with appreciation from a cult audience.
8/10