Patton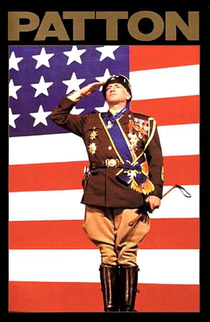 PATTON (aka PATTON: LUST FOR GLORY) (15)
D: Franklin J. Schaffner
20th Century Fox (Frank McCarthy & Frank Caffey)
W: Francis Ford Coppola & Edmund H. North [based on the books "Patton: Ordeal & Triumph" by Ladislas Farago & "A Soldier's Story" by Omar N. Bradley]
DP: Fred Koenecamp
Mus: Jerry Goldsmith
PD: Urie McCleary & Gil Parrondo
George C. Scott (Gen. George S. Patton), Karl Malden (Gen. Omar N. Bradley), Michael Bates (Field Marshal Sir Bernard Law), Edward Binns (Maj. Gen. Walter Bedell Smith), Lawrence Dobkin (Col. Gaston Bell)
World War II General George S. Patton is perhaps best known for his aggressive nature, a stern military man who spoke his mind and even slapped a hospitalised soldier who he accused of cowardice. 
Screenwriter duo Francis Ford Coppola & Edmund H. North, drawing from many sources, portray the military leader so he can be sympathetically viewed from both sides of the left-right political divide. Though he was a complex, patriotic man, he knew what it would take to lead his troops into war successfully, and as a character study, the film excels, boosted by a towering lead performance from George C. Scott, starting with a magnanimous speech in front of a huge American flag. The running time is elongated by some spectacular war scenes, quite brilliantly directed by Franklin J. Schaffner and photographed by Fred Koenecamp.
The film won 7 Academy Awards, including Best Picture, but is probably more famous for George C. Scott being the first actor to decline his Oscar, even though he thoroughly deserved the recognition.
8/10