ParaNorman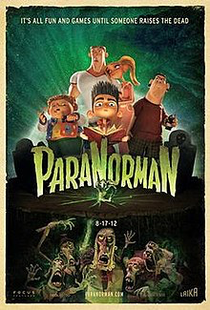 PARANORMAN (PG)
D: Sam Fell & Chris Butler
Universal/Focus Features (Travis Knight & Arianne Sutner)
W: Chris Butler, Arianne Sutner & Stephen Stone
voices of: Kobi Smit-McPhee (Norman Babcock), Tucker Albrizzi (Neil Downe), Anna Kendrick (Courtney Babcock), Casey Affleck (Mitch Downe), Christopher Mintz-Plasse (Alvin), Leslie Mann (Sandra Babcock)
A very well animated movie, utilising the same techniques employed in The Nightmare Before Christmas.
This may be a little scary for young children though- the story concerns a young boy who can communicate with ghosts and becomes an outcast at school and ignored by his parents. However, he may well be the towns only hope when they come under attack from zombies.
It's unfortunate that this movie falls in-between two stools of being too kiddy for adults and too adult for kiddies.
6/10