Papillon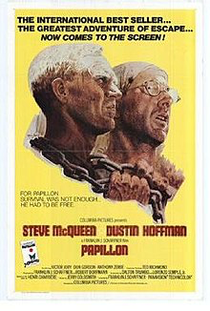 PAPILLON (15)
Corona/General Production (Robert Dorfmann & Franklin J. Schaffner)
W: Dalton Trumbo & Lorenzo Semple, Jr. [based on the book by Henri Charrìere]
Mus: Jerry Goldsmith
Steve McQueen (Henri 'Papillon' Charrière), Dustin Hoffman (Louis Dega), Victor Jory (Indian Chief), Don Gordon (Julot), Anthony Zerbe (Toussaint)
From the French word for "Butterfly" and the book by Henri Charìerre, this prison drama is on lengthy side and the pacing does come to the screen rather slowly, the reasoning behind which is so the audience can better engage and empathise with the prisoners' incarceration on a dismal, austere and desolate penal colony.
Steve McQueen & Dustin Hoffman play two prisoners incarcerated on the notoriously inescapable Devil's Island, they strike up an unlikely friendship and plot to fly from the roost.
The two main performances are faultless and though a little of the slow-building narrative could have been curtailed, the film still holds up as a classic over four decades later.
8/10