Paper Moon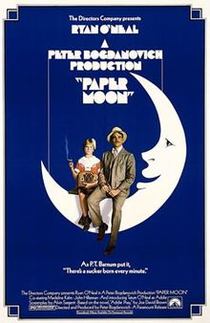 PAPER MOON (PG)
Paramount/Saticoy (Peter Bogdanovich)
W: Alvin Sargent [based on the novel "Addie Pray" by Joe David Brown]
DP: Laszlo Kovacs
Ryan O'Neal (Moses Pray), Tatum O'Neal (Addie Loggins), Madeline Kahn (Trixie Delight), John Hillerman (Sheriff Hardin)
During the Great Depression in mid-west America, a shady bible salesman and a young girl (who may or may not be his daughter) make a great team of confidence tricksters, travelling through Kansas on the grift and making a small fortune with small-time hustles before they ultimately bite off more than they can chew.
The film works best by using the real-life father & daughter partnership of Ryan and Tatum O'Neal, with the latter upstaging her dad in virtually every scene.  It's probably Oscar fraud that 10-year-old Tatum was nominated as a supporting actress for a lead performance, but it's something which happens frequently to guarantee a win, which the juvenile performance certainly deserved.
Director Peter Bogdanovich utilises black and white photography to great effect, not only to capture the period to convincing effect, but in his own words to accentuate the brilliant performances. Tatum O'Neal definitely steals the show.
8/10