Pacific Rim (1 & 2)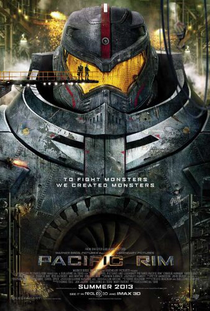 PACIFIC RIM (12)
Warner Bros./Legendary (Thomas Tull, Jon Jashni, Guillermo del Toro & Mary Parent)
Science Fiction/Action/Adventure
W: Guillermo del Toro & Travis Beacham
Ed: John Gilroy & Peter Amundsen
Charlie Hunnam (Raleigh Becket), Idris Elba (Stacker Pentecost), Rinko Kikuchi (Mako Mori), Charlie Day (Dr. Newton Geiszler), Robert Kazinsky (Chuck Hansen), Max Martini (Herc Hansen), Ron Perlman (Hannibal Chau)
It's basically Transformers vs Godzilla, but even with that low-brow plot, the lack of any real depth to the story is very disappointing considering director Guillermo del Toro's previous work (Hellboy, Pan's Labyrinth, etc.), this science fiction adventure is all about scale, as robots fight monsters on the Pacific coast.
Good acting and realistic dialogue take a back seat as this movie is all about action scenes and blowing shit up. Some of the set pieces are decent, but setting them in near darkness do no justice to the otherwise good CGI.
All in all, this is really not much better than the average man-in-a-rubber-suit Japanese monster movies from the 1950's & 60's, making it a rather pointless venture. The original Gojira (Godzilla) movies were frequently dubbed "so bad, they're good" and while Pacific Rim tries to make good from those bad roots by adding glossy visual effects, pyrotechnics and tweaking the decibel level.  It was appreciated a lot more by a lot of people though, it just didn't do anything for me personally and felt a little like an overinflated episode of TV's Power Rangers.
5/10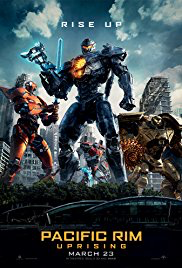 PACIFIC RIM: UPRISING (12)
D: Steven S. DeKnight
Universal/Legendary (Mary Parent, Cale Boyter, Guillermo del Toro, John Boyega, Femi Oguns, Thomas Tull & Jon Jashni)
US 2018
111 mins
Science Fiction/Action/Adventure
W: Steven S. DeKnight, Emily Carmichael, Kira Snyder & T.S. Nowlin [based on characters created by Travis Beacham]
DP: Dan Mindel
Ed: Zach Staenberg, Dylan Highsmith & Josh Schaeffer
Mus: Lorne Balfe
John Boyega (Jake Pentecost), Scott Eastwood (Nate Lambert), Cailee Spaeny (Amara Namani), Jing Tian (Liwen Shao)
I wasn't a huge fan of the first Pacific Rim, but the general consensus seemed to enjoy it - which is fine, I can't speak for everyone, I can only speak for myself. With that in mind, it was unlikely I was going to enjoy this sequel... and I didn't. It was everything I didn't like about the first film, except it was much, much worse.
Following on from the robots vs monsters war in the first film, John Boyega plays Jake Pentecost, the son of Idris Elba's character in the original movie, a scavenger who harvests robot technology and sells them on the black market. Arrested for his illegal activity, he is forced back into the military robot unit as a new war rages between human controlled robots and other units which are controlled by the enemy.
Even for a movie where robots fight other robots for practically the entire duration, this is pretty dull, seemingly gravitating more to a Transformers fanbase rather than being its own thing. I honestly think, if you want to see robots fighting each other, watch Real Steel (qv), easily the best film of this type.
3/10