A Prophet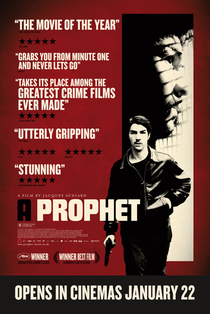 A PROPHET (UN PROPHETE) (18)
UGC (Martine Cassinelli & Antonin Dedet)
W: Jacques Audiard, Thomas Bidegain, Abdel Raouf Dafri & Nicolas Peufaillit
Tahar Rahim (Malik El Djabena), Niels Arestrup (Cesar Luciani), Adel Bencharif (Ryad), Reta Kateb (Jordi Le Gitan), Hichem Yacoubi (Reyeb)
This French language prison drama is carried entirely by the excellent performance of Tahar Rahim, who plays Malik El Djabena, a young Muslim who is serving a prison sentence and soon gets taken under the wing of a Corsican mob boss, also serving a lengthy sentence, but once the protégé develops a reputation for himself, he becomes the leader of a gang of his own race.
Though the story doesn't stray too far from American prison movies of the same ilk, the performances here are excellent, even when the narrative drags in the middle act.
A very deserving nominee for the Best Foreign Language Film Oscar at the 2010 ceremony.
7/10