The Outlaw Josey Wales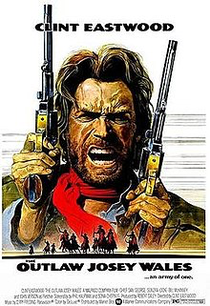 THE OUTLAW JOSEY WALES (18)
D: Clint Eastwood
Warner Bros/Malpaso (Robert Daley)
W: Philip Kaufman & Sonia Chernus [based on the novel "Gone To Texas" by Forrest Carter]
Mus: Jerry Fielding
Clint Eastwood (Josey Wales), Chief Dan George (Lone Watie), Sondra Locke (Laura Lee), Bill McKinney (Terrill), John Vernon (Fletcher)
The Outlaw Josey Wales is the ultimate revenge western. Directed by Clint Eastwood himself, but inspiration was clearly handed down from Sam Peckinpah and Sergio Leone.
Eastwood also stars as the title character, a Missouri farmer whose family is brutally murdered by Union soldiers during the American Civil War.  With vengeance on his mind, Wales joins the confederate army, but when his fellow soldiers surrender they are gunned down in cold blood and Wales becomes a target from the men who killed his family, but he still has revenge on his mind and finds a new sidekick in the form of Native American Lone Watie, who also wants a taste of revenge for what he has lost during the period of war.
The film was controversial at the time of release due to its violent content, but it seems very tame compared to modern releases. The film does feel a tiny bit on the lengthy side, but there isn't really a single moment which belongs on the cutting room floor.
Eastwood is excellent, but it's Chief Dan George who steals the film in the performance stakes. Everything else is top notch, from the screenplay to the cinematography, as well as Jerry Fielding's Oscar nominated music score.
8/10