The Opposite of Sex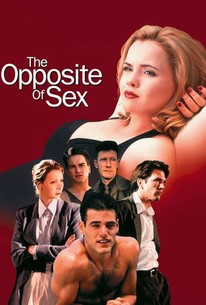 THE OPPOSITE OF SEX (15)
Sony/Rysher (David Kirkpatrick & Michael Besman)
Christina Ricci (Dedee Truitt), Martin Donovan (Bill Truitt), Lisa Kudrow(Lucia de Lury), Lyle Lovett (Carl Tippett), Johnny Galecki (Jason Bock), Ivan Sergei (Matt Mateo)
Christina Ricci takes the leap from juvenile actress to tarty adult performances with this edgy drama of a promiscuous young teenager who seduces and goes on the run with her gay brother's lover for financial gain.
The plot has enough twists and turns to keep you guessing and the performance  of Ricci is excellent, though it's also Lisa Kudrow's spinsterish performance which makes a pleasant surprise. 
It's a shame the casting director also went with the decision of using Lyle Lovett, who delivers a pathetically unconvincing, wooden piece of "acting".
6/10