The Old Dark House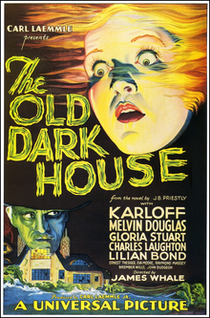 THE OLD DARK HOUSE (PG)
D: James Whale
Universal (Carl Laemmle, Jr.)
W: Benn W. Levy & R. C. Sherriff [based on the novel 'Benighted' by J.B. Priestley]
DP: Arthur Edeson
PD: Charles D. Hall
Melvyn Douglas (Roger Penderell), Charles Laughton (Sir William Porterhouse), Raymond Massey (Philip Waverton), Gloria Stuart (Margaret Waverton), Boris Karloff(Morgan), Ernest Thesiger (Horace Femm), Eva Moore (Rebecca Femm)
Classic, but very dated haunted house flick from the golden era of Universal horror movies.
There's also a touch of self-referential humour injected amongst the tragedy of horrors as a group of stranded travellers take refuge in the creepy house populated with eccentric oddities.
It will have little appeal to modern day audiences, but will be enjoyed by film buffs, connoisseurs of the oldies (& old farts like me) simply for being a seminal piece of filmmaking.
7/10