The Odd Couple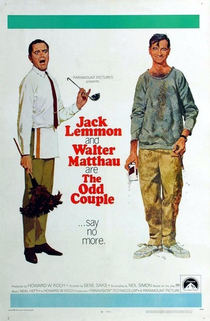 THE ODD COUPLE (PG)
Paramount (Howard W. Koch)
W: Neil Simon [based on his play]
Jack Lemmon (Felix Ungar), Walter Matthau (Oscar Madison), John Fiedler (Vinnie), Herb Edelman (Murray), David Sheiner (Roy), Monica Evans (Cecily), Carole Shelley (Gwendolyn)
Jack Lemmon and Walter Matthau had appeared in several films together, but The Odd Couple is the most fondly remembered, with both actors delivering equally iconic performances.
Screenwriter Neil Simon has a gift for making amusing situations out of everyday events, especially with mismatched couples, and this is easily the most accessible of his works, providing a massive stepping stone for his later stage plays and film screenplays. 
After his wife commences divorce proceedings, fussy journalist Felix Ungar is invited to stay at his recently-divorced, slobbish friend's apartment, where their clashing habits and lifestyles get on each other's nerves.
Though the one-set approach to the material is perfect for stage, the film does a good job translating it to the big screen.
A hugely popular sitcom followed in the 1970's, as well as a sequel in 1998, though the latter failed to capture the magic of this film.
8/10