Out of the Past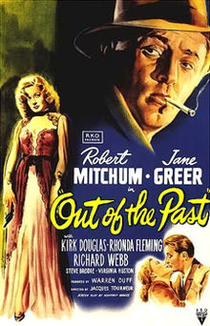 OUT OF THE PAST (aka BUILD MY GALLOWS HIGH) (PG)
D: Jacques Tourneur
RKO (Warren Duff)
US 1947
97 mins
Mystery/Thriller
W: Geoffrey Homes [based on his novel "Build My Gallows High"]
DP: Nicholas Musuraca
Ed: Samuel E. Beetley
Mus: Roy Webb
Robert Mitchum (Jeff Bailey), Jane Greer (Kathie Moffett), Kirk Douglas (Whit Sterling), Rhonda Fleming (Meta Carson), Richard Webb (Jim)
One of the great film noir thrillers of the 1940's, moodily presented with Jacques Tourneur's usual atmospheric black and white photography. 
A former private detective, now living in a small town as a gas station attendant, has his past catch up with him when a gangster hires him to locate his homicidal girlfriend, who he subsequently falls in love with.
This is the film which catapulted both Robert Mitchum and Kirk Douglas onto the A-list, and though the film isn't quite as memorable as others released around the same time, it clearly created inspiration for some later films, as well as being remade (quite poorly) as Against All Odds in 1984.
8/10