Out of Sight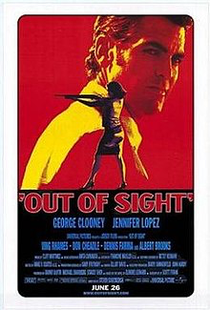 OUT OF SIGHT (15)
Universal/Jersey Films (Michael Shamberg, Danny DeVito & Stacey Sher)
W: Scott Frank [based on the novel by Elmore Leonard]
Ed: Anne V. Coates
George Clooney (Jack Foley), Jennifer Lopez (Karen Sisco), Ving Rhames (Buddy Bragg), Don Cheadle (Maurice Miller), Dennis Farina (Marshall Sisco), Albert Brooks (Richard Ripley), Steve Zahn (Glenn Michaels) 
Steven Soderbergh's cool, suave take on this crime caper is almost a film noir with it's style, starring George Clooney & Jennifer Lopez as a bank robber and a US marshal, respectively, who fall in love despite being on opposite sides of the law.
Based on the novel by Elmore Leonard, it has sleek and chic stamped all over it with its zesty dialogue and vast spectrum of characters. The non-linear narrative  might pose a problem for some people to follow the story, but those who do will experience a thoroughly enjoyable and witty caper. 
Clooney does his usual schmoozy Cary Grant act to typical effect, but the real standout performer is Jennifer Lopez, with her finest acting work to date.
8/10