Out of Africa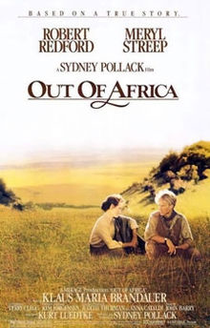 OUT OF AFRICA (PG)
D: Sydney Pollack
Universal (Sydney Pollack)
W: Kurt Luedtke [based on the writings of Isak Dinesen (Karen Blixen)]
DP: David Watkin
Ed: Frederic Steinkamp, William Steinkamp, Sheldon Kahn & Pembroke J. Herring
Mus: John Barry
PD: Stephen Grimes
Cos: Milena Canonero
Meryl Streep (Karen Von Blixen), Robert Redford (Denys Finch Hatton), Klaus Maria Brandauer (Baron Bror Von Blixen), Michael Kitchen (Berkeley Cole)
Quite easily the most boring film to ever win the Oscar for Best Picture.
It's a biopic of a Baroness (Meryl Streep) who marries a man she doesn't love, moves to a coffee plantation in Kenya and embarks on an affair with free-spirited, wrinkly-faced, rugged game hunter Robert Redford.
What aims to be an African version of Gone With The Wind takes an absolute age to get going and doesn't really do much when it gets there. Despite brilliant National Geographic style photography and great detail to early 20th century colonial Kenya it's all style and very little substance to engage the viewer.
Fans of period dramas or die hard Streep fans will enjoy this more than I did. I just sat wondering how this won 7 Oscars in a year when The Color Purple won none.
6/10