Orphan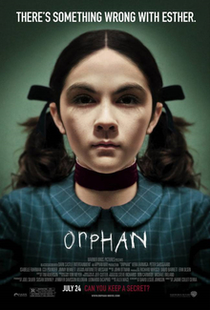 ORPHAN (18)
Warner Bros./Dark Castle (Joel Silver, Susan Downey, Leonardo DiCaprio & Jennifer Davisson Killoran)
Vera Farmiga (Kate Coleman), Peter Sarsgaard (John Coleman), Isabelle Fuhrman (Esther), CCH Pounder (Sister Abigail), Jimmy Bennett (Danny Coleman)
Modern American horror movies just don't grab me, they don't hook me in, they don't give me a sense of dread or terror and for the most part, I find them quite boring. Occasionally there's a film which provides an exemption to these opinions, but Orphan isn't one of them.
The main bones of the child-from-hell movies have been done in various forms before, and there's a few tweaks here and there which give this a little originality, but that's about it.
The only good thing about this film is the performances, which are all fairly convincing considering the subject matter, but it's just another updated spin on the same old clichés which have been bandied about since The Bad Seed.
Some might find the twist in the tale quite original, but if you look closely for the clues throughout, it's pretty damn obvious what's going to happen.
An improvement on director Jaume Collet-Saura's previous effort (House Of Wax), but these are simply MTV horror movies for an MTV audience.
5/10