Once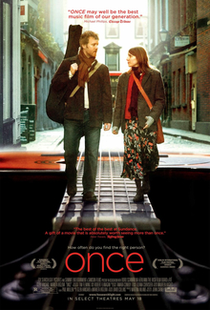 ONCE (15)
Icon/Summit/Samson/Bord Scannán Na Héireann (Martina Niland)
Ireland 2006 (Released 2007)
Mus: Glen Hansard & Markéta Írglová
Glen Hansard (Guy), Markéta Írglová (Girl), Bill Hodnett (Guy's Dad), Danuse Ktrestova (Girl's Mother)
A simple boy-meets-girl story set on the streets of Dublin, where a busker meets and falls for a Czech immigrant, also a musician, and together they record an album.
This ultra low-budget gem utilises a documentary, hand-held camera style to give it a convincing, raw and realistic edge. What the script lacks in way of dialogue it makes up for with the brilliant folk-rock songs, which all underpin the story's narrative perfectly.
Though the film was only a modest box office hit, it inspired a hugely successful stage musical.
8/10