Once Were Warriors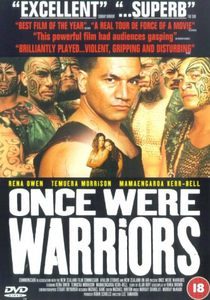 ONCE WERE WARRIORS (18)
Communicado/NZFC/Avalon (Robin Scholes)
W: Riwia Brown [based on the novel by Alan Duff]
Ed: Michael Horton
Mus: Murray Grindley & Murray McNabb
Rena Owen (Beth Heke),Temeura Morrison (Jake 'The Muss' Heke), Mamaengaroa Kerr-Bell (Grace Heke), Julian Aharanga (Nig Heke), Cliff Curtis (Uncle Bully)
A brutally compelling & riveting drama about a New Zealand family of Maori descent and their struggle to cope with the dysfunctional family unit. Rena Owen delivers an excellent performance as the tortured soul mother of the family, married to an excessively violent thug of a father, unemployed and borderline alcoholic. Two of the sons are criminals and the eldest daughter is coming of age, finding escapism from her home troubles however she can.
The acting is absolutely excellent. Temuera Morrison as the father steals the show as an absolute brute of a man, but is by no means a one-dimensional character.
Apparently, this was a massive hit in its native New Zealand, out-grossing even Jurassic Park at the box office. 
It's a powerful movie to watch and is sometimes quite unpleasant with it's scenes of domestic violence and rape, but I'd recommend this movie to anyone.
8/10