Once Upon a Time in the West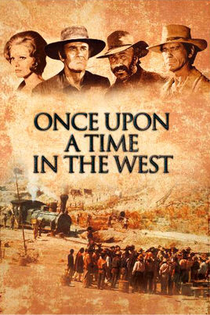 ONCE UPON A TIME IN THE WEST (15)
Paramount/Rafran/San Marco (Fulvio Morsella)
W: Sergio Leone & Sergio Donati
Henry Fonda (Frank), Claudia Cardinale (Jill McBain), Jason Robards (Manuel 'Cheyenne' Gutierrez), Charles Bronson (Harmonica), Gabrielle Ferzetti (Mr. Morton), Keenan Wynn (Sheriff of Flagstone)
Following the success he had with his "Spaghetti Trilogy", Sergio Leone got his opportunity to direct a Western for a big Hollywood studio, and with it, delivered arguably the greatest film within the genre.
A notorious gunfighter in the old west has ambitions to be a wealthy businessman, and plans to drive a woman off her lands, which is also sought after by a railway company.
Though lengthy, Leone's work is a thoroughly professional piece of work. There are no good guys here, and the casting decision of Henry Fonda, a revered American icon, in the lead role of a violent opportunist, proved to be a work of genius.      
You'll need a bagful of patience to truly appreciate this, but it's entirely worth the while.
9/10