On the Waterfront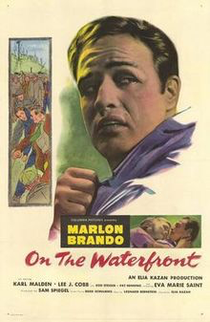 ON THE WATERFRONT (PG)
D: Elia Kazan
W: Budd Schulberg
DP: Boris Kaufman
Marlon Brando (Terry Malloy), Karl Malden (Father Barry), Lee J. Cobb (Johnny Friendly), Rod Steiger (Charley Malloy), Eva Marie Saint (Edie Doyle), Pat Henning ('Kayo' Dugan), Leif Erickson (Glover)
One of the all time classic crime pictures, featuring one of Marlon Brando's very best performances as a former prizefighter, who, following the death of his brother, breaks ranks with a mob-connected docklands Union boss.
There's since been much made of the "method" style of acting utilised by the performers in this film, amongst the first of its kind to use the practice and often imitated since.
Though much of the film feels old-fashioned, or a homage to gangland pictures of the 1930's, this is simply a must-watch for any cinema buff.
9/10