On the Town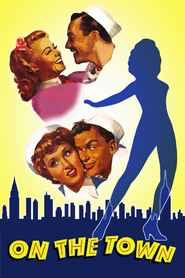 ON THE TOWN (U)
D: Gene Kelly & Stanley Donen
W: Betty Comden & Adolph Green [based on the ballet "Fancy Free" by Leonard Bernstein]
Mus: Lennie Hayton & Roger Edens
Gene Kelly (Gabey), Frank Sinatra (Chip), Jules Munshin (Ozzie), Vera-Ellen (Ivy Smith), Betty Garrett (Hildy Esterhazy), Ann Miller (Claire Huddeson)
Three horny sailors on leave... for a 1940's audience.
On the Town is a breakthrough musical for its time, discarding the strict set-bound approach which had previously dominated the genre in favour of filming on location in and around New York City, where a trio of sailors (Kelly, Sinatra & Munshin) enjoy their 24 hours leave from duty with musical asides.
The memorable song and dance numbers give the film its longevity, and though the genre is practically defunct now, this is one which stands the test of time. Often parodied, never bettered.
8/10