On Golden Pond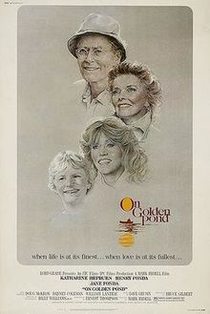 ON GOLDEN POND (PG)
Universal/ITC/IPC (Bruce Gilbert)
W: Ernest Thompson [based on his play]
Henry Fonda (Norman Thayer), Katharine Hepburn (Ethel Thayer), Jane Fonda (Chelsea Thayer-Wayne), Doug McKeon (Billy Ray), Dabney Coleman (Bill Ray)
A tender, bittersweet comedy-drama starring Henry Fonda & Katharine Hepburn as an elderly, retired husband & wife who spend their summer at their New England lakeside cottage with their daughter & grandson.
Whilst the film doesn't have too much in the way of plot, the performances are absolutely fantastic, aided by the fact that real life a father-and-daughter pairing act alongside each other and bring the friction from their relationship in real life to the screen.
Henry Fonda died soon after the film's release, and received his only Best Actor Oscar for the performance, becoming the oldest actor to earn the accolade. Katharine Hepburn also won her fourth Best Actress Oscar, setting a record which still hasn't been bested.
7/10