Oliver!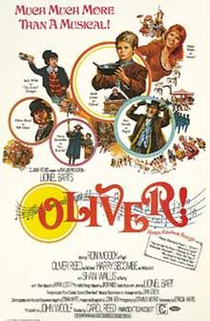 OLIVER! (U)
D: Carol Reed
Columbia/Warwick/Romulus (John Woolf)
W: Vernon Harris [based on the musical play by Lionel Bart; novel 'Oliver Twist' by Charles Dickens]
DP: Oswald Morris
Mus: John Green; Lionel Bart
PD: John Box
Cos: Phyllis Dalton
Mark Lester (Oliver Twist), Ron Moody (Fagin), Oliver Reed (Bill Sykes), Shani Wallis (Nancy), Harry Secombe (Mr. Bumble), Jack Wild (Jack 'The Artful Dodger' Dawkins), Hugh Griffith (The Magistrate), Joseph O'Connor (Mr. Brownlow), Leonard Rossiter (Mr. Sowerberry)
Lionel Bart's musical version of Charles Dickens' Oliver Twist gets the big screen treatment and goes into movie folklore.
Even for a musical released towards the tail end of the genre's golden age, the film did incredibly well, even going as far as winning the Best Picture Oscar (the last musical to do so until 2002's Chicago).
Carol Reed's film is a splendid piece of work, doing justice to both the stage musical and the original novel, with Ron Moody stealing the picture as master pickpocket Fagin. Oliver Reed also delivers his finest ever performance as the story's true villain, Bill Sykes. The cast of children are all fantastic, though Mark Lester's pure & chaste title character is most certainly upstaged by Jack Wild's performance as cheeky scoundrel The Artful Dodger.
It does drag a little in places around the mid-section, but this is truly one of the great film musicals and arguably the finest ever adaptation of Charles Dickens' works.
10/10