Of Mice & Men (1939/1992)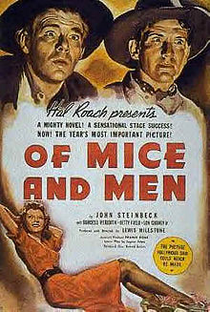 OF MICE & MEN (PG)
Hal Roach Films (Lewis Milestone)
W: Eugene Solow [based on the novel by John Steinbeck]
Burgess Meredith (George Milton), Lon Chaney, Jr. (Lennie Small), Betty Field (Mae), Charles Bickford (Slim), Roman Bohnen (Candy), Bob Steele (Curley), Noah Beery, Jr. (Whit)
The definitive version of John Steinbeck's classic novel.
During the Great Depression, two itinerant farm workers travel the country looking for work on ranches, one of whom is a mentally-retarded giant who isn't aware of his own strength and can't seem to stay out of trouble.
The drama is excellently acted by every member of its cast and even manages an uplifting ending despite the often depressing subject matter.
8/10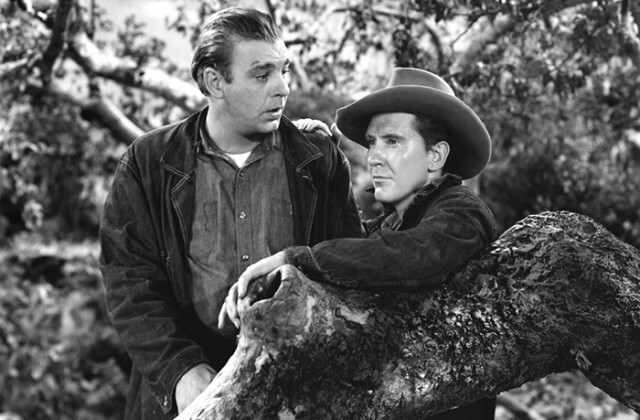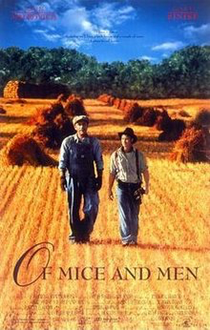 OF MICE & MEN (12)
MGM (Russ Smith & Gary Sinise)
W: Horton Foote [based on the novel by John Steinbeck]
Gary Sinise (George Milton), John Malkovich (Lenny Small), Ray Walston (Candy), Casey Siemaszko (Curley) Sherilyn Fenn (Curley's Wife)
Well-intended and very well acted remake of the above though this adaptation feels emotionally cold and often feels like a filmed stage reenactment.
Malkovich steals the movie and Gary Sinise proves to be a much better actor than he is a director. 
Worth watching if you're a fan of the book, but the 1939 version has a much better sense of atmosphere.
6/10