Ocean's Eleven (film series)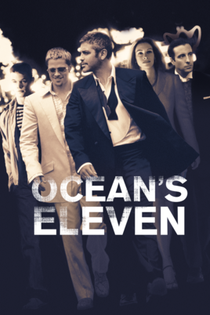 OCEAN'S ELEVEN (15)
D: Steven Soderbergh
Warner Bros./Village Roadshow/NPV (Jerry Weintraub)
W: Ted Griffin [based on the screenplay by Harry Brown & Charles Lederer]
Ed: Stephen Mirrione
George Clooney (Danny Ocean), Brad Pitt (Rusty Ryan), Matt Damon (Linus Caldwell), Andy Garcia (Terry Benedict), Julia Roberts (Tess Ocean), Don Cheadle (Basher Tarr), Casey Affleck (Virgil Malloy), Scott Caan (Turk Malloy) Elliott Gould (Reuben Tishkoff), Bernie Mac (Frank Catton), Carl Reiner (Saul Bloom)
A surefire contender for the coolest remake of all time, Steven Soderbergh's update of the 1960's rat pack crime caper Ocean's Eleven just oozes with effortless charisma.
George Clooney leads as Danny Ocean, a suave and confident ex-convict who pools the talents of 10 other conmen in order to rob three Las Vegas casinos on the night of a championship boxing match.
There's a good mix of fun, thrills and self-indulgence, with all the cast in good form. The heist itself is a masterstroke of deft direction and excellent editing.
7/10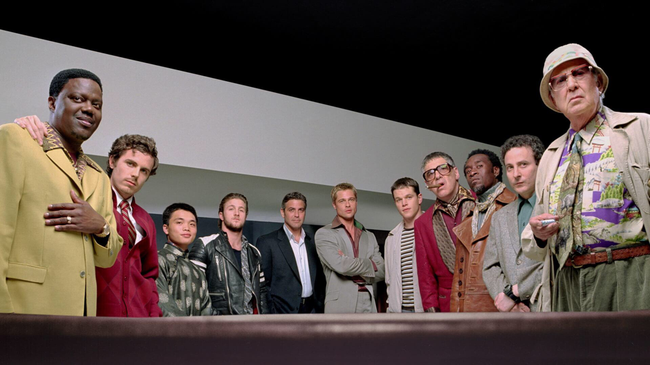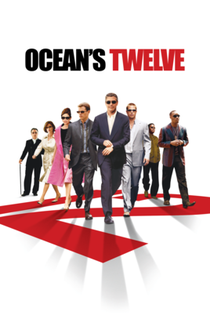 OCEAN'S TWELVE (15)
Warner Bros./Village Roadshow/NPV (Jerry Weintraub)
W: George Nolfi [based on characters created by Harry Brown & Charles Lederer]
George Clooney (Danny Ocean), Brad Pitt (Rusty Ryan), Matt Damon (Linus Caldwell), Andy Garcia (Terry Benedict), Julia Roberts (Tess Ocean), Catherine Zeta-Jones (Isabel Lahiri), Vincent Cassel (François Toulor)

Following the heist in Las Vegas and Danny Ocean's inevitable return to prison, he gets the same gang together (with an additional member to boot) in order to participate in more heists.
The formula from the first film is tweaked so this is more in-jokey, with even more emphasis on being cool. The referential self-indulgences are far more embarrassing in this film though, and it's quite insulting to the intelligence of the audience. Cool doesn't always equal good, and the fashionability of this sequel has no longevity at all. Bunkum.
4/10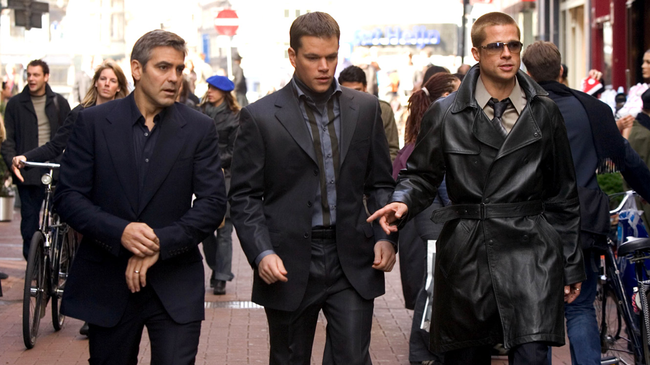 OCEAN'S THIRTEEN (PG)
D: Steven Soderbergh
Warner Bros/Village Roadshow/Section Eight (Jerry Weintraub)
US 2007
122 mins
Crime/Comedy
W: Brian Koppelman & David Levien  [based on characters created by Harry Brown & Charles Lederer]
DP: Peter Andrews
Ed: Stephen Mirrione
Mus: David Holmes
George Clooney (Danny Ocean), Brad Pitt (Rusty Ryan), Matt Damon (Linus Caldwell), Andy Garcia (Terry Benedict), Don Cheadle (Basher Tarr), Elliott Gould (Reuben Tishkoff), Al Pacino (Willy Bank), Ellen Barkin (Abigail Sponder)
The third and final part of the Ocean's Trilogy is an improvement on the second film (Ocean's Twelve), but by the same token, it feels like a spoof version of the first film (Ocean's Eleven), albeit without Julia Roberts returning to reprise her role as the love interest.
It's another variation on the same plot, with Danny Ocean and his team of criminals putting their wits together to rip off another casino, owned by businessman Willy Bank, though this time, the heist is to be done mostly over the gambling tables on the casino's relaunch night.
There are moments where it seems it's trying a little too hard to be cool, and some of the comedy interludes may make you roll your eyes, but overall it is an entertaining crime caper, though it really does pale in comparison to the 2001 film.
5/10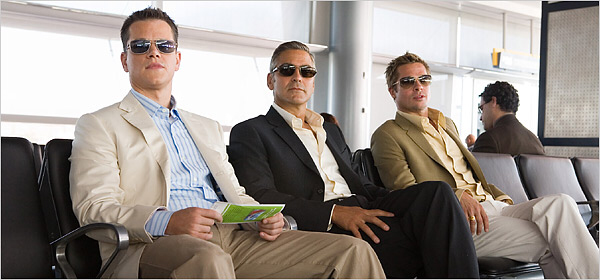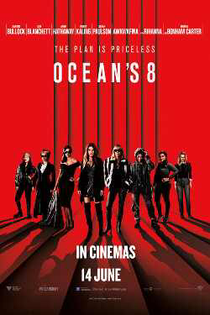 OCEAN'S 8 (12)
D: Gary Ross
Warner Bros/Village Roadshow/Smoke House (Steven Soderbergh & Susan Ekins)
US 2018
110 mins
Comedy/Crime
W: Gary Ross & Olivia Milch [based on characters created by George Clayton Johnson & Jack Golden]
DP: Eigil Bryld
Ed: Juliette Welfling
Mus: Daniel Pemberton
Sandra Bullock (Debbie Ocean), Cate Blanchett (Lou), Anne Hathaway (Daphne Kluger), Mindy Kaling (Amrita), Sarah Paulson (Tammy), Awkwafina (Constance), Rihanna (Nine Ball), Helena Bonham-Carter (Rose Weil)
With Hollywood dead set on remaking as many movies as possible with female leads, this spinoff of Ocean's Eleven is a perfectly enjoyable heist flick.
Sandra Bullock plays the sister of George Clooney's character from the 2011 film, an ex-convict who, upon release, immediately plots the theft of a priceless diamond necklace during an art gala and simultaneously getting her own back on her ex-partner whose duplicity saw her sentenced to prison.
The film is not without its problems, one being that its twist will be quite obvious to anyone who can count and the infatuation with fashion will appeal far more to women audience members than to males. The female cast are all good however, particularly Sandra Bullock and Cate Blanchett, who make a fine double act. It's a shame about James Corden's appearance in the last few scenes though, where he's simply playing himself (and can't even do that convincingly). Still, his presence doesn't ruin what is otherwise a reasonably entertaining popcorn movie.
5/10