O Brother, Where Art Thou?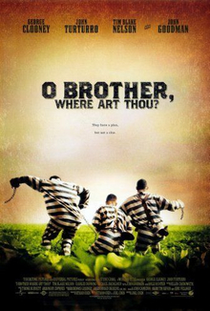 O BROTHER, WHERE ART THOU? (15)
Momentum/Universal/Touchstone/Studio Canal/Working Title (Ethan Coen)
W: Joel Coen & Ethan Coen [based on 'The Odyssey' by Homer]
DP: Roger Deakins
Ed: Roderick Jaynes & Tricia Cooke
Mus: T-Bone Burnett
PD: Dennis Gassner
George Clooney (Everett Ulysses McGill), John Turturro (Pete), Tim Blake Nelson (Delmar), Charles Durning (Pappy O'Daniel), John Goodman (Big Dan Teague), Michael Badalucco (George Nelson), Holly Hunter (Penny)
The Coen Brothers movies are very much love-them-or-hate-them but they do happen to have a vast legion of fans and I count myself among them (aside from their remake of The Ladykillers - they must have only made that to get out of some contractual obligation)
In this, they rework Homer's classic tale The Odyssey and relocate it to depression-era Deep South and follows the mishaps of three gormless fugitives from a chain gang as they seek a fabled treasure.  George Clooney steals the show as the leader of the trio, delivering his best comic performance to date.
I'm not a huge fan of the traditional Golden Oldie folk songs that the soundtrack is littered with, but in context of the movie, the song choices work incredibly well.
I'd say this is amongst Joel & Ethan Coen's best films, but it's still nowhere near as good as Fargo (qv).
8/10