127 Hours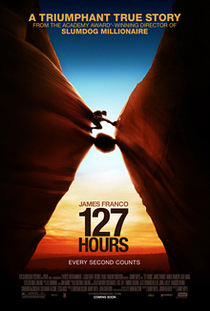 127 HOURS (15)
Fox Searchlight/Pathé/Everest/Film4 (Danny Boyle, Christian Colson & John Smithson)
W: Danny Boyle & Simon Beaufoy [based on the book "Between A Rock & A Hard Place" by Aron Ralston]
DP: Anthony Dod Mantle & Enrique Chediak
Ed: Jon Harris
James Franco (Aron Ralston), Amber Tamblyn (Megan McBride), Kate Mara (Kristi Moore)
Based on a true story of a young, thrill-seeking adventurer trapped and alone during an intrepid rock-climb, 127 Hours expertly captures the claustrophobia, desperation and mania of a man quite literally caught between a rock and a hard place.
James Franco, an actor on the up, turns in a great performance as the adventurous Aron Ralston, slowly losing his mind as he contemplates how to escape his predicament.
Director Danny Boyle has dabbled with the kind of hallucinogenic style of display before (The Beach, Trainspotting)  but it does come off particularly well here.
7/10