101 Dalmatians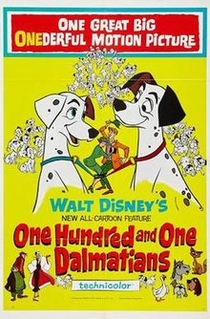 ONE HUNDRED & ONE DALMATIANS (101 DALMATIANS) (U)
W: Bill Peet [based on the novel by Dodie Smith]
voices of: Rod Taylor (Pongo), Cate Bauer (Perdita), Betty Lou Gerson (Cruella De Vil), Ben Wright (Roger Radcliffe), Lisa Davis (Anita Radcliffe)
Walt Disney's first animated feature of the 1960's is arguably the last true classic of the studio head's lifetime.  
Based on the novel by Dodie Smith, it gets its usual bit of Disney tweaking, with the usual songs added to tell the story of a pair of dogs who have to save their puppies from a cruel villainess who plans to use their skins for fashionable clothing.
Though the story is quite dark, in Disney's hands it's transformed into something perfectly apt for all the family. The songs aren't quite as memorable as other Disney works, but the animation is just fine, particularly on the dalmatians themselves and the brilliantly-realised London backgrounds.
8/10