The Nutty Professor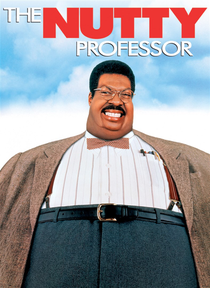 THE NUTTY PROFESSOR (12)
Universal/Imagine (Brian Grazer & Russell Simmons)
W: David Sheffield, Barry W. Blaustein, Tom Shadyac & Steve Oedekerk [based on the screenplay by Jerry Lewis & Bill Richmond]
Eddie Murphy (Prof. Sherman Klump / Buddy Love), Jada Pinkett (Carla Purty), James Coburn (Harlan Hartley), Larry Miller (Dean Richmond)
While the original 1963 film was pretty much an excuse to showcase the comedy talents of Jerry Lewis, this 1996 remake does pretty much the same for Eddie Murphy, aided by Rick Baker's excellent makeup, which sees the comedy actor playing multiple characters. Mostly, the portly title character, Sherman Klump, who devises a potion which turns him into a slim, (over)confident ladies man. 
The jokes are very hit and miss, mostly consisting of fat and fart jokes, the film should really be called The Fat Professor.  That being said, Murphy's comedy stock had diminished throughout the late 80's and early 90's and this saw a small return to form for him and is possibly considered one of his last decent comedy vehicles.  The film is a load of nonsense, but so was the original. It's just a shame about the rubbish sequel (The Klumps) which was released off the back of this just four years later.
6/10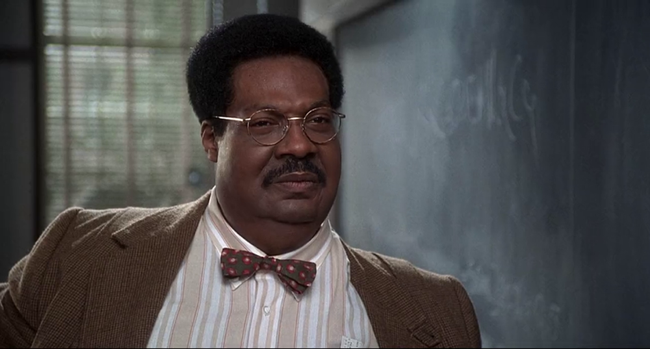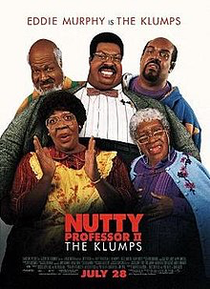 THE NUTTY PROFESSOR II: THE KLUMPS (12)
Universal/Imagine (Brian Grazer)
W: David Sheffield, Barry W. Blaustein, Paul Weitz & Chris Weitz
Eddie Murphy (Prof. Sherman Klump / Buddy Love / various members of the Klump family), Janet Jackson (Dennis Gaines), Larry Miller (Dean Richmond)
Poor sequel to the 1996 film, which mostly sees Eddie Murphy playing all the members of The Klump family, making fart jokes and mocking fat people. 
The makeup is great, the jokes are not.
An unmemorable studio cash-in on the popularity and success of the original.
4/10