The Notebook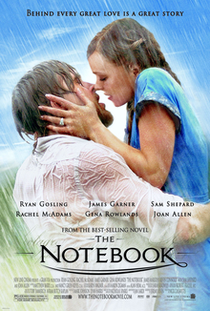 THE NOTEBOOK (12)
New Line (Mark Johnson & Lynn Harris)
Ryan Gosling (Noah Calhoun), Rachel McAdams (Allie Hamilton), James Garner (Old Noah), Gena Rowlands (Old Allie), James Marsden (Lon Hammond), Sam Shepard (Frank Calhoun), Joan Allen (Anne Hamilton)
Any fella who's ever had a girlfriend has more than likely been "Notebooked" by his other half, which isn't necessarily a bad thing, though it will probably be more appreciated if it's watched with an open mind and no prior knowledge of it's story or plot points.
It's a sweet, nostalgic and syrupy love story with the occasional moment of schmaltz and whimsy, but it has a good heart, as an elderly husband tells his Alzheimer's-suffering wife a love story at her hospital bedside of a couple who meet and fall in love during the 1950's.
Some of the plot twists will be glaringly obvious, but it's very well told, with some good production detail, good use of music and some impressive performances, particularly from Rachel McAdams & James Garner.
It goes without saying that, generally speaking, a female audience will appreciate this more, but it's not a complete waste of time for lads either.
6/10