The Nice Guys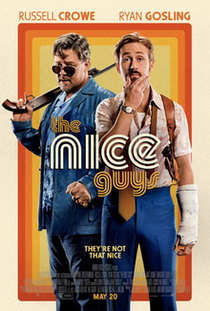 THE NICE GUYS (15)
Warner Bros/Waypoint/Ratpac-Dune (Joel Silver)
W: Shane Black & Anthony Bagarozzi
Mus: John Ottman & David Buckley
Russell Crowe (Jackson Healy), Ryan Gosling (Holland March), Angourie Rice (Holly March), Matt Bomer (John Boy), Margaret Qualley (Amelia Kutner), Kim Basinger (Judith Kutner)
This crime caper sees Russell Crowe and Ryan Gosling as mismatched private investigators who get drawn into a missing persons case in 1970's Hollywood.
When a pornographic actress is involved in a fatal car crash, a conspiracy unfolds involving the adult film industry and the investigative duo cross paths, while more sinister people get in their way.
The script is typically Shane Black, taking elements of Lethal Weapon and Kiss Kiss Bang Bang, but the outcome happens to be one of the funniest films of 2016. Russell Crowe and Ryan Gosling are great together and their partnership does provide for some hilarious moments.
7/10