The Naked City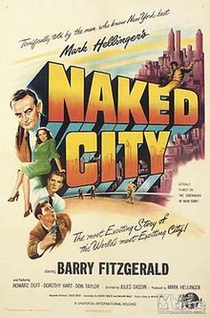 THE NAKED CITY (PG)
D: Jules Dassin
Universal (Mark Hellinger)
W: Malvin Wald & Albert Maltz
DP: William Daniels
Ed: Paul Weatherwax
Mus: Frank Skinner & Miklos Rozsa
Barry Fitzgerald (Lt. Dan Muldoon), Don Taylor (Jimmy Halloran), Howard Duff (Frank Niles), Dorothy Hart (Ruth Morrison), Ted de Corsia (Garzah), Adelaide Klein (Mrs. Batory)
Old hat now, but for 1948, this thriller filmed on location in New York City was a rarity for presenting its story off of the Hollywood sets and soundstages.
The story itself is quite run-of-the-mill when compared to others in the mystery-thriller genre; New York detectives investigate the murder of a woman found in a bath, taking to the hustle-and-bustle of NYC in their chase.
Highly influential, especially with the closing lines of dialogue, but modern audiences probably won't be as appreciative as those watching in the late 1940's.
7/10