Nurse Betty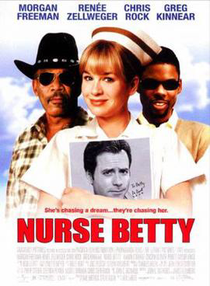 NURSE BETTY (18)
D: Neil LaBute
USA Films/Gramercy/Intermedia/Pacifica/Propaganda/Ab'-Strakt (Steve Golin & Gail Mutrux)
US 🇺🇸 2000
105 mins
Comedy/Crime
W: John C. Richards & James Flamberg
DP: Jean Yves Escoffier
Ed: Joel Plotch & Steve Weisberg
Mus: Rolfe Kent
Renee Zellweger (Betty Sizemore), Morgan Freeman (Charlie), Chris Rock (Wesley), Greg Kinnear (George McCord / Dr. David Ravell), Aaron Eckhart (Del Sizemore)
Nurse Betty is a hilariously quirky independent comedy starring Renee Zellweger in one of her finest performances.
She plays a waitress who witnesses her shady husband being murdered by a pair of gangsters. Suffering from a nervous breakdown in the days that follow, she adopts the personality of a character from her favourite soap opera, developing an obsession with her favourite actor from the show, who she pursues while the two gangsters who killed her husband continue after her.
The plot is mad as a box of frogs, but it's made credible by the excellence of Zellweger's performance, whilst Morgan Freeman, Chris Rock and Greg Kinnear are all solid in support.
The final act does become a little too silly, but not enough to ruin everything that comes before it.
Renee Zellweger won a Golden Globe for her work, and really should have been nominated for a Best Actress Oscar.
7/10