Nowhere Boy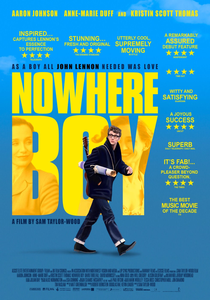 NOWHERE BOY (15)
D: Sam Taylor-Wood
Icon/Erosse/Film4/Hanway/UK Film Council (Robert Bernstein & Douglas Rae)
UK 🇬🇧 2009
97 mins
Biopic/Drama
W: Matt Greenhalgh [based on the book "Imagine This: Growing Up With My Brother John Lennon" by Julia Baird]
DP: Seamus McGarvey
Ed: Lisa Gunning
Mus: Alison Goldfrapp & Will Gregory
Aaron (Taylor-)Johnson (John Lennon), Kristin Scott-Thomas (Mimi Smith), Anne-Marie Duff (Julia), Thomas Brodie Sangster (Paul McCartney), Sam Bell (George Harrison), David Threlfall (George Toogood Smith)
Nowhere Boy is a biopic of John Lennon in his rebellious teenage years, but rather than the story's focus being on the formation of The Beatles, it looks at the straining relationships between Lennon and strict, bookish aunt who has been his guardian from a young age and his free-spirited, Bohemian mother who encourages his passion for music.
Based on a biography by one of Lennon's half-sisters, it shows a side of Lennon's history that many people wouldn't be aware of, whilst also having enough about it to satisfy ardent Beatlemaniacs.
Aaron Taylor-Johnson is excellent in the lead, but the two best performances belong to both Anne-Marie Duff and Kristin Scott-Thomas as the two sisters warring over what they believe is best for him.
A very worthwhile watch, especially for fans of the singer and/or the band.
7/10