Notorious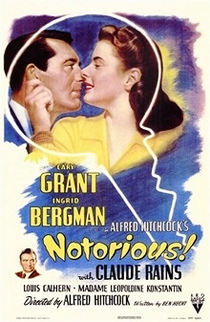 NOTORIOUS (U)
D: Alfred Hitchcock
W: Ben Hecht
PD: Albert D'Agostino & Carroll Clark
Cary Grant (T.R. Devlin), Ingrid Bergman (Alicia Huberman), Claude Rains (Alexander Sebastian), Louis Calhern (Paul Prescott)
Amongst The Master Of Suspense, Alfred Hitchcock's most famous works, Notorious combines thrills, romance and international intrigue, helped by the scintillating pairing of Cary Grant and Ingrid Bergman.
Following her father's incarceration for being a nazi spy, a socialite is forced to work for the US government to investigate a Nazi renegade.
The twisted love affair is very much at the centre of the film. Grant's character is untrusting, unsympathetic and passive, while Bergman is excellent as the poisoned candy, though perhaps the best performance of the film belongs to Claude Rains.
Hitchcock fills the film with his usual flair and some superb camera shots, making this one of the finest examples of his work.
8/10