Nothing Sacred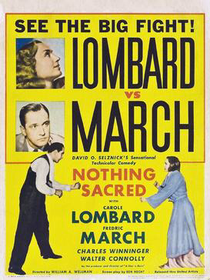 NOTHING SACRED (U)
D: William A. Wellman
United Artists/Selznick International (David O. Selznick)
US 🇺🇸 1937
77 mins
Comedy
W: Ben Hecht [based on the short story "A Letter To The Editor" by James H. Street]
DP: W. Howard Greene
Ed: James E. Newcom
Mus: Oscar Levant
Carole Lombard (Hazel Flagg), Fredric March (Wally Cook), Charles Winninger (Dr. Enoch Downer), Walter Connolly (Oliver Stone), Sig Rumann (Dr. Emil Eggelhoffer)
When watching old movies, I try to put myself in the perspective of watching the film in the year when it was originally released. Sometimes it's easy to do, but sometimes it's really difficult. As much as I tried to enjoy Nothing Sacred, it certainly falls into the latter category for me.
I'm sure, in 1937, this would have been the talk of the town, but it really has dated badly & I have to put it down to the awful technicolor process which has left the film looking hazy and unfocused.
The story is fine, with Carole Lombard delivering a fine performance as an eccentric hypochondriac who believes she is suffering from a terminal illness. She uses a bumbling journalist to make her into America's latest sweetheart and satirical wisecracks are abound as she heads to the big city.
The script does have some good one liners and the characters are as good as you'd expect from a screwball comedy.  I just found it incredibly difficult to watch based on the depreciation of the aesthetics (which were ironically quite groundbreaking at the time of release).
It's understandable that the film inspired many others from its mould and for that reason I can respect it, but I could never bring myself to watch it again.
7/10