Nothing but the Truth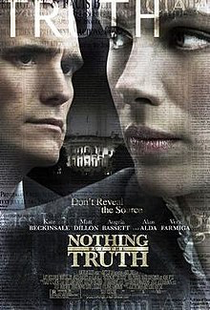 NOTHING BUT THE TRUTH (15)
Yari Film Group (Rod Lurie, Bob Yari & Marc Frydman)
Kate Beckinsale (Rachel Armstrong), Matt Dillon (Patton Dubois), Angela Bassett (Bonnie Benjamin), Alan Alda (Albert Burnside), Vera Farmiga (Erica Van Doren)
A decent political thriller, featuring possibly Kate Beckinsale's best acting performance. She plays an ambitious journalist who writes an article which is damaging to national security and, unwilling to name her source for the article, is incarcerated in a penitentiary for contempt of court.
All the performances in the movie are quite excellent. Matt Dillon is a real bastard as a government DA, Alan Alda is great as Beckinsale's attorney, Vera Farmiga delivers a powerhouse performance as a scrutinised CIA agent and even David Schwimmer turns up as Ross Geller, I mean, Kate Beckinsale's husband.
The one major criticism I have of this movie, however, is that the "twist" is so blindingly obvious, that halfway through the movie I was wondering how all the supporting characters could be so imperceptive. 
6/10