Nosferatu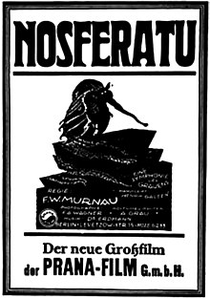 NOSFERATU (15)
D: F.W. Murnau
Prana (Enrico Dieckmann & Albin Grau)
Max Schreck (Graf Orlok), Gustav Von Waggenheim (Hutter), Greta Schröder (Ellen), George H. Schnell (Harding)
Nosferatu is an unofficial treatment of the Dracula story, changing the names of the characters but the story is practically the same.
This German silent film has gone down as one of the all-time classics, with a terrifying count played by the incredibly strange-looking Max Schreck.
Considering the age of the film, it has held up really well over time, with some excellent trick photography for its age.
Werner Herzog remade the film in 1979, when Bram Stoker's copyright had passed into the public domain, allowing him to use the original characters names. Overall, the 1922 version is still better, mostly due to the creepy performance from its main actor.
8/10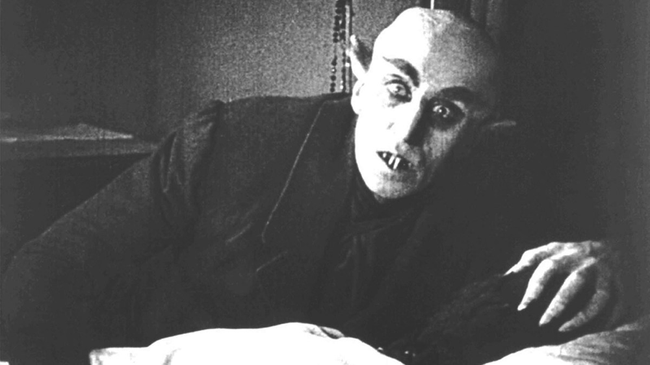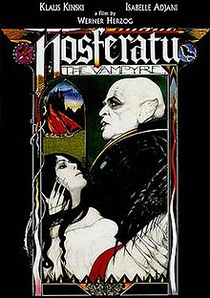 NOSFERATU: PHANTOM OF THE NIGHT (aka NOSFERATU THE VAMPIRE) (15)
W: Werner Herzog [based on the 1921 screenplay by Henrik Galeen & the novel "Dracula" by Bram Stoker]
DP: Jörgen Schmidt-Reitwein
Klaus Kinski (Count Dracula), Isabelle Adjani (Lucy Harker), Bruno Ganz (Jonathan Harker), Roland Topor (Renfield), Walter Ladengast (Dr. Van Helsing)
With the rights of Bram Stoker's Dracula passing into the public domain, Werner Herzog remade the 1921 German classic with the original names from the novel.
Overall, the film drags a little slowly, but the menacing performance of Klaus Kinski as the title character is very effective, especially with his resemblance of Max Schreck from the original film with the aid of superb prosthetic makeup.
As with all Herzog films, the making of the production has its own interesting story and the film was shot twice, both in English and German languages for distribution on both sides of the pond. The German version appears to have dated better for some reason, with the colour on the English language version appearing flushed of colour.
The 1920's original is far preferable, but this is good enough for those who wouldn't care for a silent picture.
6/10