1984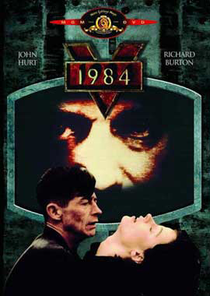 1984 (NINETEEN EIGHTY FOUR) (15)
Virgin/Umbrella/Rosenblum (Simon Perry)
W: Michael Radford [based on the novel by George Orwell]
PD: Allan Cameron
John Hurt (Winston Smith), Richard Burton (O'Brien), Suzanna Hamilton (Julia), Cyril Cusack (Mr. Charrington), Gregor Fisher (Parsons), James Walker (Syme)
It's about as good a cinematic dramatisation you could get from George Orwell's classic novel.  Many people consider the work dated or this filmed version pointless, purely because the year of its prophecy had been and gone, but Orwell's prose is still an important piece of 20th century literature.
John Hurt is brilliant as Winston Smith and Richard Burton also gives a creepy, insidious performance. 
A lot is missing from the novel, but it does include the majority of the important things and the dystopian future is very well realised by director Mike Radford. 
Recommended to fans of the book and general science fiction, it's just a shame that it dated itself immediately upon the year of its release.
7/10