Nightcrawler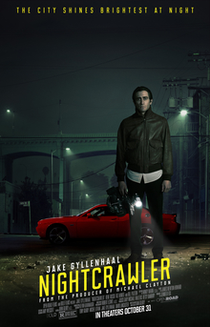 NIGHTCRAWLER (18)
D: Dan Gilroy
Bold/Open Road (Tony Gilroy, Jennifer Fox, Michel Litvak, David Lancaster & Jake Gyllenhaal)
W: Dan Gilroy
Jake Gyllenhaal (Louis Bloom), Rene Russo (Nina Romina), Riz Ahmed (Rick), Bill Paxton (Joe Loder)
Jake Gyllenhaal is wickedly sinister as a misanthropic loner in this atmospheric crime thriller. He plays Louis Bloom, who embarks upon a career filming paparazzi-style  footage of crimes which he sells on to the highest bidding news channel, managed by career-driven executive Rene Russo.
He soon develops a taste for the macabre work, even going as far as manipulating the facts he shares with the police so a pair of murderers stay on the loose, so he can push his prices up even further with his exclusive footage.
The dark subject matter will certainly not be to everybody's taste and some similarities will be made with 2011's Drive (which shared some of the same producers).
Jake Gyllenhaal and Rene Russo deliver their finest performances here, and were without doubt robbed of Oscar nominations. They easily make what could have been a very awkward watch rather mesmeric along with some excellent photography from cinematography Robert Elswit.
8/10