The Night of the Living Dead (1968/1990)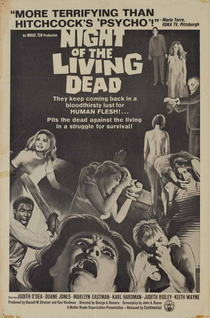 THE NIGHT OF THE LIVING DEAD (18)
D: George A. Romero
Image Ten (Russell Streiner & Karl Hardman)
Judith O'Dea (Barbra Blair), Duane Jones (Ben), Karl Hardman (Harry Cooper), Keith Wayne (Tom)
Despite a humble cast, a very simple story (a group of people hide from bloodthirsty zombies in an abandoned barn) and a virtually non-existent budget, writer-director George A. Romero still delivers one of the seminal, groundbreaking horror films and amongst the first to feature zombies as murderous, utilising its gloomy atmosphere to build the tension in the absence of blood and gore effects.
A bigger-budget sequel (Dawn Of The Dead (qv)) was even better.
8/10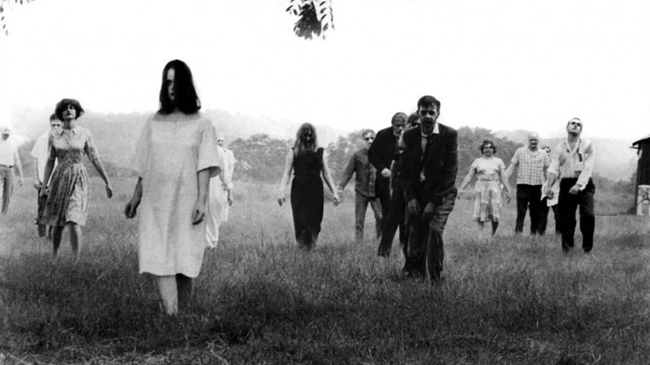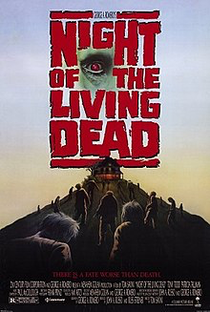 NIGHT OF THE LIVING DEAD (18)
Columbia/21st Century (John A. Russo & Russ Steiner)
W: George A. Romero [based on a screenplay by John A. Russo]
Tony Todd (Ben), Patricia Tallman (Barbara), Tom Towles (Harry Cooper), McKee Anderson (Helen Cooper), Heather Mazur (Sarah Cooper)
Bigger budget remake of George A. Romero's 1968 classic, directed by Tom Savini, a makeup artist who specialised in gore effects (as seen by his work on Dawn Of The Dead).
The austere atmosphere of the original film is lost in favour of excessive violence and gore, and though it's not a terrible remake, it doesn't come close to the shock factor of its 1960's counterpart and doesn't have many particularly memorable moments, especially not the same way the original film does.
6/10