Night at the Museum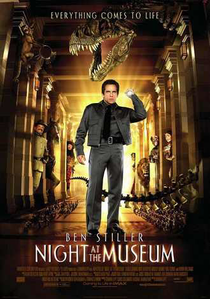 NIGHT AT THE MUSEUM (PG)
20th Century Fox (Shawn Levy, Chris Columbus & Michael Barnathan)
W: Robert Ben Garant & Thomas Lennon
Ben Stiller (Larry Daley), Carla Gugino (Rebecca Hutman), Dick Van Dyke (Cecil Fredericks), Mickey Rooney (Gus), Bill Cobbs (Reginald), Jake Cherry (Nick Daley), Ricky Gervais (Dr. McPhee), Robin Williams (Theodore Roosevelt), Steve Coogan (Octavius), Owen Wilson (Jedediah)
Larry (Ben Stiller) is the new nightwatchman at New York's Museum of Natural History, where, unknown to the outside world, the exhibits come to life after sundown. 
Larry, completely out his depth as he struggles to maintain calm, has no idea that he's been hired to be pinned as a fall guy by a trio of retiring security guards who plan to use the chaos as a smokescreen while they steal previous artefacts.
Larry, with the help of the living waxwork of Teddy Roosevelt (Robin Williams), a pocket-sized cowboy (Owen Wilson), and his miniature Roman nemesis, Octavius (Steve Coogan) all plan a way to stop the thieves and save the struggling museum.
Good fun for a family movie, where the chaos starts early on with a skeletal T-Rex chase and only gets more crazy. All the performances are outshone by the excellent visual effects, which is a good thing, since some of the acting is absolutely terrible and/or shamefully miscast (Ricky Gervais).
Some sequels followed, though not quite as good as this original film.
6/10