Nebraska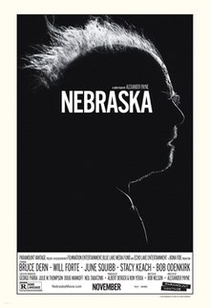 NEBRASKA (15)
D: Alexander Payne
Paramount Vantage/Filmnation/Blue Lake Media/Bona Fide/Echo Lake (Albert Berger & Ron Yerxa)
W: Bob Nelson
DP: Phedon Papamichael
Bruce Dern (Woody Grant), Will Forte (David Grant), June Squibb (Kate Grant), Bob Odenkirk (Ross Grant), Stacy Keach (Ed Pegram)
Shot in stark black & white photography, Nebraska is a black comedy best appreciated if you're a fan of director Alexander Payne's previous works (Sideways, About Schmidt, The Descendants).
Veteran actor Bruce Dern plays Woody Grant, a reformed alcoholic in his twilight years who believes that he has won a $1 million raffle via a magazine publication and wishes to travel to Lincoln, Nebraska to collect his (fictional) winnings.
Reluctantly, his son takes him on the road trip, which sees them visit Woody's old hometown, where rumour spreads about his change in fortunes and everyone seems to want a cut, even though there are no winnings to collect.
Despite a witty, intelligent screenplay, the performances hold the credibility of the plot together, especially those of Bruce Dern and June Squibb, as his no-nonsense wife. 
A shaggy dog tale/road trip movie which won't endear itself to everyone, but will gather fans amongst those who enjoy something a little different.
7/10