National Treasure (1 & 2)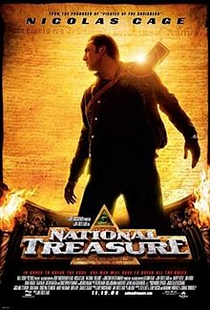 NATIONAL TREASURE (PG)
Disney (Jerry Bruckheimer)
W: Jim Kouf, Cormac Wibberley & Marianne Wibberley
Nicolas Cage (Benjamin Franklin Gates), Diane Krüger (Abigail Chase), Justin Bartha (Riley Poole), Sean Bean (Ian Howe), Jon Voight (Patrick Gates), Harvey Keitel (Agent Sadusky), Christopher Plummer (John Adams Gates)
Disney's take on The DaVinci Code is dumb but fun, starring Nicolas Cage as an intripid historian who has spent his life looking for a secret hidden treasure and makes the discovery that the map to finding it is encrypted on the Declaration of Independence. 
He puts in place a plan to steal the historic artefact before a group of criminals led by Sean Bean. 
It's all very far fetched, but hugely enjoyable, so long as you leave rational thought aside while watching it.
6/10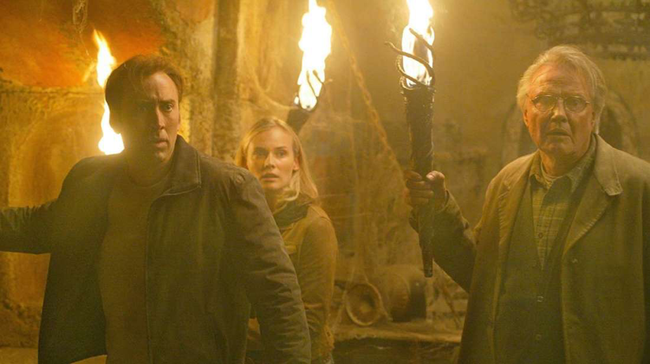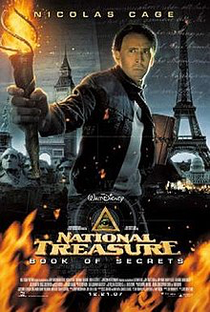 NATIONAL TREASURE 2: BOOK OF SECRETS (PG)
Disney (Jerry Bruckheimer)
W: Cormac Wibberley & Marianne Wibberley
DP: John Schwartzman & Amir Mokri
Ed: William Goldenberg & David Rennie
Nicolas Cage (Ben Gates), Justin Bartha (Riley Poole), Diane Krüger (Abigail Chase), Jon Voight (Patrick Gates), Helen Mirren (Emily Appleton-Gates), Ed Harris (Mitch Wilkinson), Harvey Keitel (Agent Sadusky)
Practically a remake of the first film, mostly set in and around Europe with a re-tweaked nonsense-to-fun ratio. 
It isn't offensively bad and filmed in the usual Disney-Jerry Bruckheimer gloss. The performances are certainly not up to the standard of the first film, with Cage looking like he was only on-board for a paycheck and Jon Voight turning in another embarrassing performance. Helen Mirren & Diane Kruger come out of it looking best, though neither would be chasing treasures during the awards season. Mediocre stuff.
5/10