Narrow Margin (1952/1990)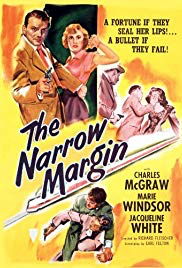 THE NARROW MARGIN (PG)
W: Earl Fenton
Charles MacGraw (Det. Sgt. Walter Brown), Marie Windsor (Mrs. Frankie Neall), Jacqueline White (Ann Sinclair), Queenie Leonard (Mrs. Troll)
Government officials try to guard a prosecution witness for an important trial on a train from Chicago to Los Angeles, but the bad guys have other ideas.
This nifty little thriller only saw cinema screens as a "second feature" (something which has now become redundant), but found itself every bit as credible as the main feature during its brief theatrical run.
A 1990 remake saw it get a feature-length presentation that the story deserved.
6/10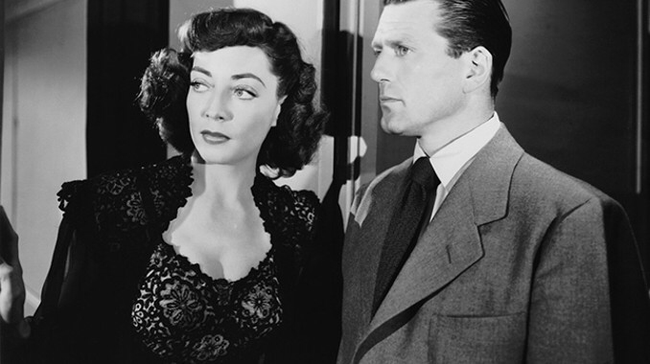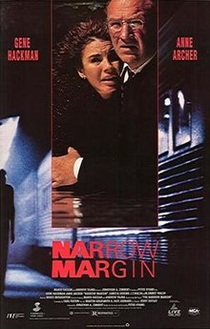 NARROW MARGIN (15)
Guild/Carolco (Jonathan A. Zimbert)
W: Peter Hyams [based on a screenplay by Earl Fenton]
Gene Hackman (Robert Caulfield), Anne Archer (Carol Hunnicut), James B. Sikking (Nelson), J.T. Walsh (Michael Tarlow), M. Emmet Walsh (Sgt. Dominick Benti)
Feature length remake of a 1952 B-movie, starring Gene Hackman as a district attorney who escorts a key trial witness on a train whilst gangsters are in hot pursuit. 
The original film ran for only 70 minutes and cost a mere $230,000 to make whereas this remake runs 27 minutes longer and cost upwards of $20 million.
On balance, the original is the better, more suspenseful film, but the remake had the feature film status that the original story rightly deserved. It's worth checking both movies out.
6/10